Recently I read the following statement: "It's easier to change the world if you can see someone who has already started, who is just like you".
This statement made me think about my own life, and I wondered if it was really true. Soon I realized no matter what I started, I always looked for role models.
For example, when I decided to start doing martial arts, it was the journey of Monica McCabe Cardoza that made the difference. She's a Karate blackbelt from New Jersey and she wrote the Book "A Woman's Guide to Martial Arts". Today I'm a proud wearer of a Taekwondo blackbelt myself.
Many other times, also in my professional life, a role model gave me enough confidence to tackle something new, no matter how enormous the task seemed.
Have you ever done a Google image search for "CEO"?
Role models are important for everyone, especially if you want to aim high. Like, for example, becoming a CEO. Look at the role models found by doing a Google Image Search on "CEO"! Notice anything?
The first woman CEO in a Google Images Search appears after scrolling through five dozen male CEOs.
Now think about this for a while.
If a woman can't look up and see women who have been successful in a certain field, we have less chance of being successful ourselves. Or, in the worst-case scenario, we don't even try. In a world where men named Jeffrey in CEO positions outnumber the total number of female CEOs, we need all the visible role models we can get.
Because: "It's easier to change the world if you can see someone who has already started, who is just like you".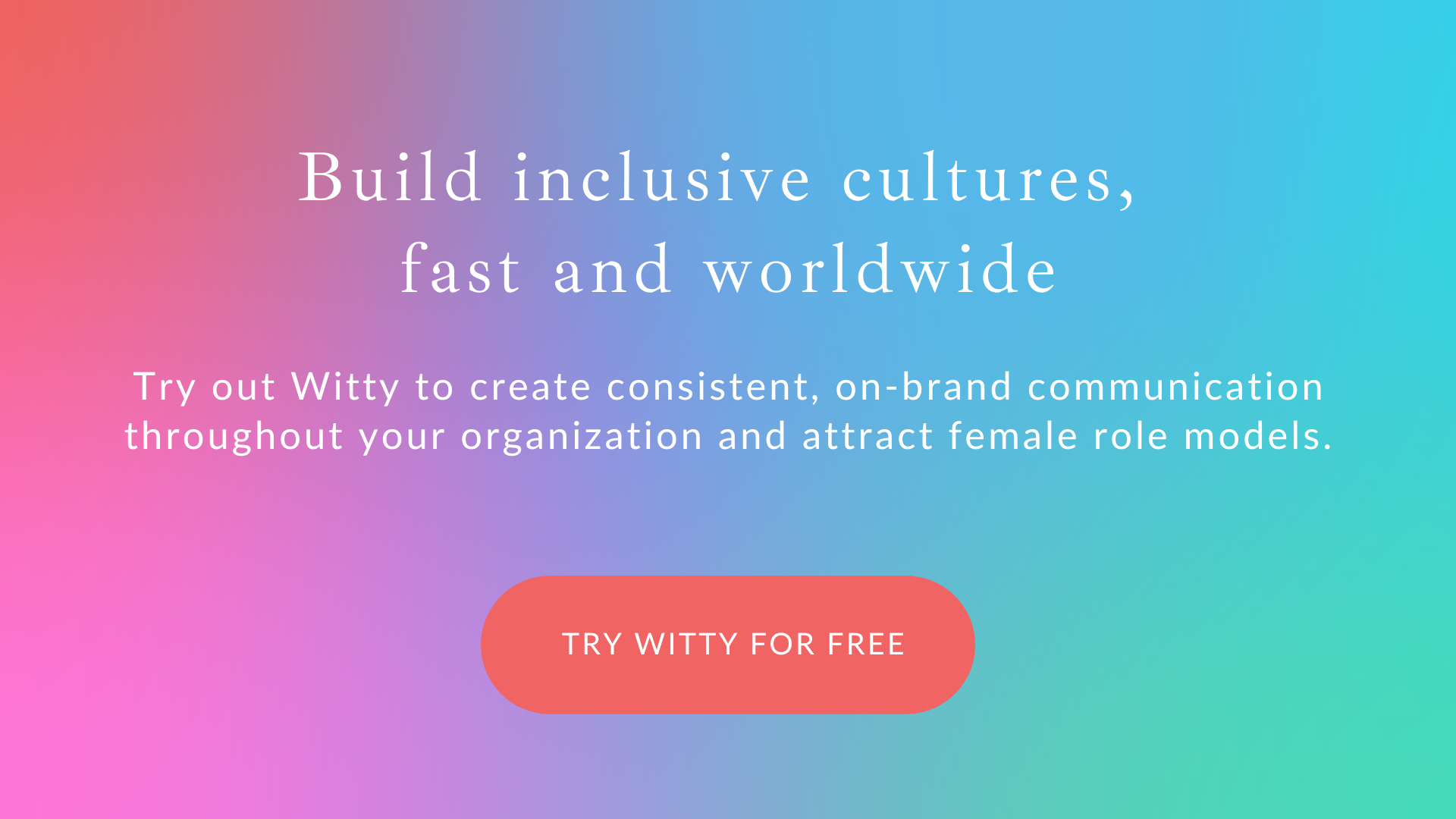 Let's make female role models more visible
I'm in charge of community building and social media in our startup Witty Works. So I decided to ask our community about female CEOs, specifically in tech companies, where female role models are even rarer. And guess what? All our social media accounts started brimming with activity and interactions! I had a hard time keeping up while giving the needed attention to everyone's suggestions.
Female role models do exist, even in male-dominated fields. We just need to make them more visible. And you do need to want to see them. That's what I'd like to do by sharing with you this valuable list of female tech CEOs created by our wonderful community.
A pool of great and inspiring role models to follow on social media!
(Random order)
Stephanie Lüpold, CEO of Amazee Labs - A team of leading Drupal, React and Gatsby developers with a passion for engaging web design
LinkedIn
Ilona Baier, CEO of Ginetta - Creating websites and apps that click with users
LinkedIn
Twitter
Désirée Mettraux, CEO of OCC Assekuradeur - Versicherungslösungen, die mit genauso viel Liebe gemacht sind wie Ihr Oldtimer, Youngtimer oder Premiumfahrzeug
LinkedIn
Twitter
Kate Morris, founder of Adore Beauty - Australia's longest-running online beauty store, and an official stockist of over 200 leading global beauty brands
LinkedIn
Twitter
Colleen Costello, CEO of Vyv - Recently named a "World Changing Idea" as this breakthrough technology creates inhospitable environments for bacteria, mold, fungi and yeast to grow and survive.
LinkedIn
Twitter
Yana Mohanty, creator of Geometiles - A versatile set of interlocking tiles, multi-award winning Geometiles® supports math exploration for students, parents, teachers and the curious
LinkedIn
Twitter
Carolin Silbernagl, former Co-founder and Member of the Board betterplace / gut.org now free for new adventures in public interest tech
LinkedIn
Twitter
Evelyn Thar, CEO of Amazee Metrics - Taking care of your digital performance
LinkedIn
Twitter
Nora Schimang, CEO of Code Door - Empowering your non-profit with access to in-demand coding skill training and elevating your tutors to raise the success-level of your students
LinkedIn
Twitter
Tracy Lee, CEO of This Dot Media - Creating an inclusive web through free developer resources
LinkedIn
Twitter
Katerina Trajchevska, CEO of Adeva - Specializing in building and scaling engineering teams with blazing-fast efficiency
LinkedIn
Twitter
Catharina Bøhler, CEO of Sarepta Studio - An independent video game development studio creating atmospheric and thought-provoking games
LinkedIn
Twitter
Nikema Prophet, founder and CEO of PopSchools - We connect people to community, resources, and education to begin and advance their tech careers
Twitter
LinkedIn
Aisha Bowe, CEO of STEMboard - Delivers support to federal clients to solve complex problems, enable integration of technology and mission at key points and provide actionable intelligence
LinkedIn
Twitter
Penny Schiffer, CEO of Raized.ai - Using AI to make venture capital more intelligent, data-driven and automated – helping VCs focus on what matters most
LinkedIn
Twitter
Vidisha Kamini, co-founder of ACadru - Free Learning Modules: Ideas & Projects for New Age Jobs
LinkedIn
Twitter
Alex Schladebeck, CEO of BREDEX GmbH - Develops software and IT solutions for companies from a wide variety of industries
LinkedIn
Twitter
Isa Watson, CEO of Squad - A VC-backed, software company that created and is currently scaling a platform that helps people build their "in real life" communities
LinkedIn
Twitter
Vera Gehlen-Baum, CEO of QualityMinds GmbH - Qualitätssicherung in agiler Software-Entwicklung
LinkedIn
Twitter
Jiawei Li, CEO of Tuli Health - Providing accessible medical resource trusted by all
LinkedIn
Twitter
Camilla Young,CEO of Vualto - Design, develop and deploy streaming solutions to make your online video happen
LinkedIn
Twitter
DeShuna Spencer, CEO of kweliTV - Watch undiscovered, award-winning indie films celebrating global black culture from anywhere in the world
LinkedIn
Twitter
Loulia Kassem, CEO of Rea - Develops a medical device to allow home monitoring of women at risk a of preterm birth
LinkedIn
Twitter
Nicky Goulimis, co-founder and COO of Nova Credit - The premier cross-border credit reporting agency
LinkedIn
Twitter
Nadine Klokke, CEO of Knab - Online bank
LinkedIn
Twitter
Karen Baker, CEO of ShipperHQ - Drive sales at checkout with flexible shipping rates and delivery methods tailored to the way you do business
LinkedIn
Twitter
Judith Bellaiche, CEO of Swico - A national, not-for-profit system for taking back discarded electronic and electrical equipment
LinkedIn
Twitter
Yoko Spirig, CEO of Ledgy - Helps startups handle their employee shareholdings, cap table and investor relations professionally and accurately from the start
LinkedIn
Twitter
Tanja Hermann, CEO of WebStages - Your digital influencer-marketing specialists
LinkedIn
Twitter
Whitney Wolfe, CEO of Bumble - One app. Three modes: dating, friend-finding, and networking
LinkedIn
Sandra Tobler, CEO of Futurae Technologies - Enabling trust and invisible security for your users on all devices and applications
LinkedIn
Twitter
Lea von Bidder, CEO of Ava - Clinically proven to identify both the opening and closing of the fertile window, letting you know your five best days to try for a baby
LinkedIn
Twitter
Yvonne Bettkober, General Manager Switzerland at Amazon Web Services
LinkedIn
Bettina Hirsig, leader of Powercoders - Coding Academy for Refugees
LinkedIn
Judith Häberli, CEO Urban Connect AG - Your corporate shared mobility platform
LinkedIn
Arijana Walcott, CEO Switzerland of DART Labs - Incubator for teams that build technologies for a more human future
LinkedIn
Twitter
Marianne Janik, CEO of Microsoft Schweiz
LinkedIn
Twitter
Gabriela Keller, CEO of Ergon Informatik - Smart people - smart software
LinkedIn
Sasha A. Schriber, CEO of NANOS - Online advertising for all, backed by machine learning technology
LinkedIn
Twitter
Tania Boler, CEO of Elvie - The world's first silent wearable breast pump
LinkedIn
Myriam Reinle, CEO of Evolute AG - Die neue Art der Vermögensverwaltung
LinkedIn
Twitter
Regina Gwynn, CEO of tressenoire - Nail your beauty routine the first time, every time with your virtual beauty coach
LinkedIn
Ana Campos, CEO of Trivadis AG - Together for a smarter life
LinkedIn
Twitter
Sibylle Stromeyer, CEO of BeCompany - We grow software
LinkedIn
Twitter
Leila Summa, CEO of Play To Change - Shortcut to innovation
LinkedIn
Twitter
Nelly O Gedeon, CEO of Wayaj - The first ecotravel app designed to explore and book sustainable and socially responsible destinations around the world
LinkedIn
Luiza Dobre, CEO of Komed Health AG - A simple, secure and scalable clinical communication platform
LinkedIn
Twitter
Cindy Spelt, CEO of Zoom in & Zoom out - Solutions and insights about tomorrow's consumer behaviour
LinkedIn
Nadja Schmid, CEO of Soultank - Usability, User Experience und Human Centred Design
LinkedIn
Twitter
Tanja Lau, CEO and founder of Product Academy - Empowering Product People with workshops, coaching and team events for product managers and product teams
LinkedIn
Twitter
Elena Dumas Schott, CEO of Syscon Technologies - Virtual teams / Software Development / Business Intelligence / Network Infrastructure
LinkedIn
Katharine Wolf, CEO of Odetta - An on-demand service platform that allows you to outsource your digital tasks to top talent around the world in under 2 mins
LinkedIn
Twitter
Alice Default (Forbes 30 under 30), CEO of Double - Connects busy executives with experienced human assistants and great tech to save hours every day
LinkedIn
Twitter
Nicole Schaufler, Executive Partner at CASTANA Solutions GmbH - Ansprechpartner für zukunftsfitte und digitale Business Prozesse
LinkedIn
Twitter
I'll interview some of them in later blog posts. Let me know in a comment who you'd like to get to know better or if you'd like me to add any other role model to this list!
If you are looking for a digital writing assistant for inclusive language, try out Witty for free. Witty detects non-inclusive language provides ongoing training on unconscious bias and operationalizes inclusion.
Companies that would like to become more diverse and inclusive, get in touch with us! We happily support you to become more attractive for women and other minorities.