If Witty doesn't work yet on the website you need,
you can always copy & paste your text into this text field to use Witty.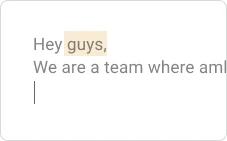 Click the field below and start writing to see how it works.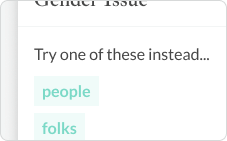 Click on the underlines to see Witty's suggestions.
FAQs
Frequently Asked Questions
Where can I use Witty?
Find out on which websites you can use Witty at the moment. We are continuously improving our software.
How do I customize Witty?
Will Witty store what I write?
"I really like this tool, but what does Witty do with the data? Do they read and store everything we write? Is Witty even spying on us?" We hear these concerns quite often and want to provide some clarity.
It is important to us to be absolutely transparent when it comes to security. The trust of our users is more important to us than collecting data. That's why we have set up a page where we explain in detail and in easy-to-understand language:
Where does it get its suggestions from?
Our rules are based on scientific research of behavioral economics, on feedback from focus groups as well as on cooperation with special interests groups of different diversity dimensions.
In this blog post, we put together many of the scientific findings.
You can also download our white paper "Cashcow Inclusive Language" on our homepage.
Can I use Witty at work too?
Sure! And we would love you to do so. We have all the infrastructure in place so that whole teams can install the software and even define corporate language rules. We also have built the infrastructure to make sure that data is safe and privacy guaranteed. See our pricing for
start-ups and organizations with less than 250 employees
and for large organizations.
Why is Witty not available for software I use?
We are continuously improving our software. So it might be that we did not get far enough to reach your preferred interface. Please let us know with
this survey
what you would like to see and we put it on our roadmap.