What is a browser extension?
A browser extension is a small software program that helps you with specific tasks and works within your web browser (like Google Chrome, Firefox, Edge, or Safari). It extends the functionality of your browser. They can do all sorts of things. For example, they can help you sync your calendar (like Google Calendar), create videos (like Loom), keep your passwords secure (like LastPass), or correct your spelling (Grammarly).
‍You can use many different browser extensions at the same time. For Chrome, there are almost 200'000 extensions you can install.
Witty is such an extension. It helps you to write inclusively.
Are extensions safe to use?
Extensions essentially live inside your browser until you choose to uninstall them.
In general, they are safe to use. But since any developer can create and upload a browser extension, take these three steps to ensure you don't accidentally download malicious software.
‍

Use your c

ommon sense

:

If you receive a permission request that seems inappropriate, it probably is. For example, if a weather extension asks for your location, you can assume that this data is necessary to determine the weather forecast in your region. But if a colouring extension asks for your location, you should investigate the reason why.

In the store,

check the rating of the extension

.


Read the privacy policy

of the extension.

Google the extension and

read about who created it and its purpose

.
A prompt shows you how the extensions can access your data whenever you install any extension. For Witty, this prompt looks like this: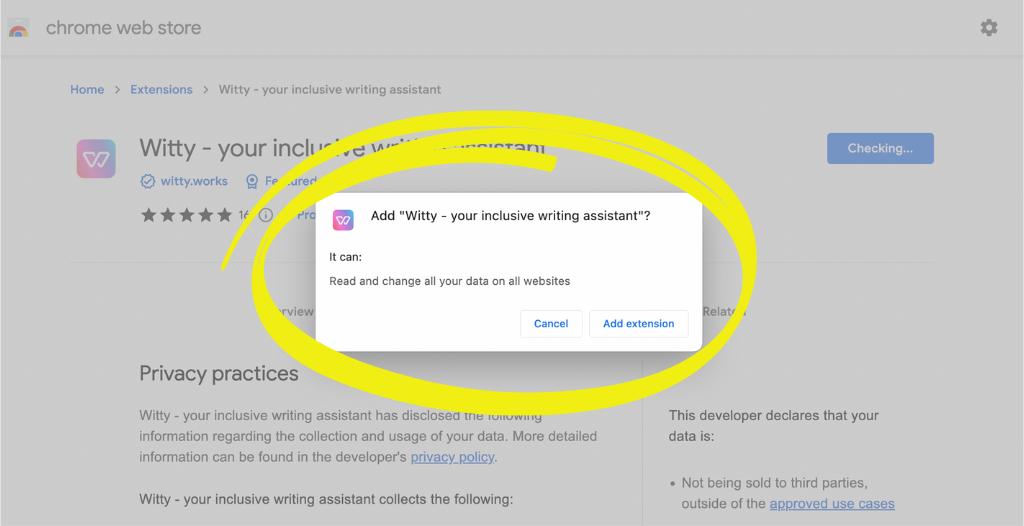 At a first glance, this might look scarier than it is. You might wonder, does witty read and store everything I write? Is Witty even spying on me?

We hear concerns like this regularly, and it's important that you raise them. Digital trust truly matters. That's why we want to provide transparency and clarity about how your data are used.

In a nutshell, here are the main points:
We collect

data about user interaction, not about what the write

. For example, we collect how often a user opens the popup, which alternatives a user accepts, or which categories are used most. This helps us understand which parts of Witty generate the most value for users and which parts require work or maybe even need to be removed.

All this data is collected anonymously.

Only if users actively state that they want to see their own statistics do we link this data to a user.

When a free user accepts or dismisses a proposed alternative, we collect a few words before and after the highlighted term (100 characters). These data are anonymous, and

we always remove URLs, emails, and phone numbers from the data

to reduce the likelihood that personal information will be collected. This allows us to learn in what context a term should or should not be highlighted. Paid users can disable any storage on our side.
Read in detail how we collect data and how we analyse and share the data.
How do we ensure that we behave ethically?
Since the beginning of 2022, we work with our own technology ethics board. The topic of diversity, equity, and inclusion requires credibility. We have to make an effort to build trust and we do so by working closely with our ethics board.

How do I install a browser extension?
It is very easy to install a browser extension, and you need no technical knowledge. Usually, it is not necessary to talk to your IT department. You never need to talk to other software manufacturers to install an extension. For example, you don't need to talk to the manufacturers of SAP, Outlook, or Workday to make a browser extension work.
Browser extensions are installed from the browser stores. For Chrome, you can find all available extensions in the Chrome Store, for Firefox in the Firefox Browser Add-Ons, and for Microsoft in the Edge Add-ons.
Underneath you can see a screenshot from the Chrome Store. You then simply click on the blue button "Add to Chrome". That's all. Nothing else to do. Your extension is installed. Yeah!

Where can I find my browser extensions?
You can find your browser extensions in the browser bar by clicking on the puzzle icon. Or, if you have pinned them already, they will show up next to the puzzle icon with its own branded icon.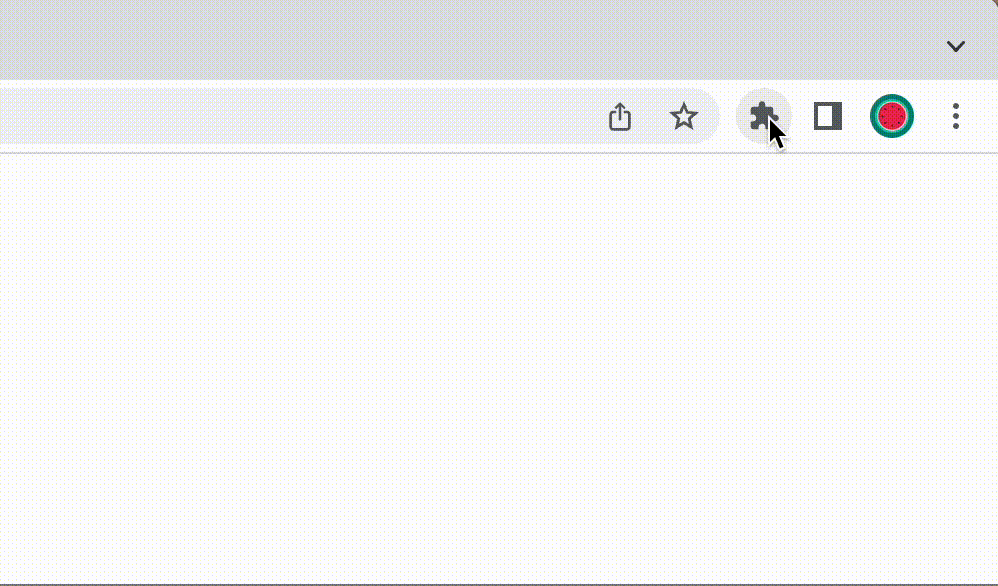 What is the difference between installing a browser extension and a software program?
If you want to install a software program, you must first download it from the internet, click on the downloaded file, and then follow the instructions in the dialog box that appears. The software program is then installed on the hard drive of your computer and can be found under Programs or Applications. To install a software program, you often need to talk to your IT department.
A browser plugin is much simpler to install and is just a small piece of software that is added to your browser in one click. An extension is not saved on the hard drive of your computer under Programs or Applications. To install it, you don't necessarily need to talk to your IT department, and certainly not to the providers of software that you use.
Do you have any further questions?
Just drop us a line, and we'll get back to you. Or read through our help pages.
If you are looking for a digital writing assistant for inclusive language, try out Witty for free. Witty detects non-inclusive language and provides ongoing training on unconscious bias and operationalizes inclusion.