Why did Witty Works decide it needed a technology ethics board? How was the board created, its members selected? What can we expect to see from the board and more importantly how will it help foster Witty's mission of an inclusive and equitable society?

I have interviewed Lukas Kahwe Smith, co-founder and CTO, who is the internal champion for the ethics board.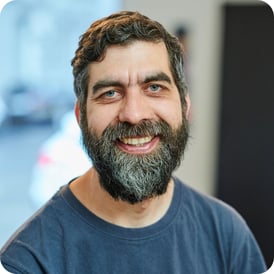 Why did Witty Works think an ethics board was needed?
The topic of diversity, equity and inclusion requires credibility. We have to make an effort to build trust. In our work on Witty Works products, we're frequently faced with ethical questions and dilemmas, such as how to approach inclusive language or how we build for accessibility. We believe that outside experts are critical to ensure we have the right expertise to handle such questions but more importantly that we are held accountable to deliver on our mission in an ethical manner.

What is the Technology Ethics Board responsible for?
While we initially set out to create an "AI ethics board", while setting up the governance we decided to broaden the scope to cover "technology" in general. We use a role based governance system called holacracy at Witty Works, where each role has a clearly defined purpose and accountabilities.
Name

: Technology Ethics Board

Purpose

: The purpose of the Tech Ethic Board is to provide Witty Works with expert guidance to innovate responsibly.

Accountabilities

: Reviewing ongoing developments and product roadmap for potential ethical issues Advising on how to handle ethical issues Publishing relevant information about the ethical board processes and decisions
How did you find and choose the members of the Technology Ethics Board?


When researching how other startups have set up their ethics boards, we didn't find any good examples or templates for startups. So from the very beginning we decided that we wanted to both establish a technology ethics board for Witty Works and share our approach, learnings and templates with other startups.

We built a list of over a dozen experts in technology ethics and DEI. After two months of interviews and consultations, we selected three experts that bring the required expertise and can help us build out and operationalize ethics practice at Witty Works.



The members of the Technology Ethics Board include:



Anna Mätzener - Managing Director of AlgorithmWatch Switzerland, Digital Shaper 2021
Fungai Mettler - ESG & Social Impact Leader, 50 Young African Women Achievers 2020, Woman Investor of the Year 2022
Leila Toplic - Technology Ethics & Social Impact Leader, 100 Brilliant Women in Ethics 2021
From Witty Works:
Elena Nazarenko - Senior NLP Expert
Lukas Kahwe Smith - Co-Founder and CTO
What advice do you have for other startups when it comes to innovating responsibly?
Start early with tackling hard ethical issues. Don't allow the questions to pile up, and suddenly you realize the company you build to advance humanity is actively harmful. We just established our ethics board, so our understanding will evolve a lot over the coming months. We are happy to talk to any startup about our learnings and share our processes and templates.

—

You can find out more about each of our external board members on the technology ethics board page. Here we will also share all the key information detailing our processes and links to our quarterly updates.
If you are looking for a digital writing assistant for inclusive language, try out Witty for free. Witty detects non-inclusive language and provides ongoing training on unconscious bias and operationalizes inclusion.