Ability + Physicality
Witty alerts you to expressions that marginalize people based on a definition of - physical, mental, or intellectual - normal. With Witty's suggestions you contribute to building a space where everyone feels they belong, no matter their size, shape, skin, or hair; illnesses others can't see; or the barriers to their participation they navigate.
Most of us are taught to believe that having a disability, an illness, or physical attributes different from aesthetic fashions, suggests otherness. In fact, 15% of the world's population experiences some form of disability (World Bank), and almost three in five US Americans feel beauty brands have a responsibility to destigmatize flaws. Flagging language that misrepresents natural human diversity, Witty offers inclusive and respectful alternatives. It detects ableist slurs, disability-related hate speech, and biases in eleven dimensions, from vision, hearing, and speech to learning, mental well-being, and physicality.
To respect everyone, avoid basing how you talk to, and about, people on your ideas of "normal."
Referring to people as "idiots" because they're "turning a blind eye" is rarely about their actual intellectual capacity or lack of 20/20 vision. It's about behavior that's damaging, inconsiderate, or mean - or about a point of view not shared. Disparaging words, metaphors, jokes, and euphemisms are rife with ableist language. We use them every day, usually without ill intent. But in doing so, we fuel the negativity and bias surrounding disabilities and chronic illnesses. Witty helps you avoid words and turns of phrase that other, hurt, or make uncomfortable those around you who navigate barriers that impede their participation.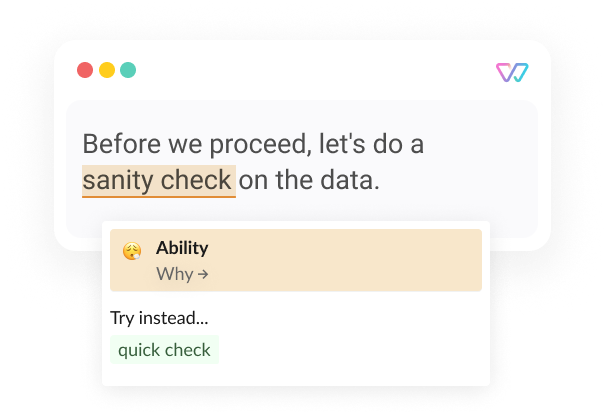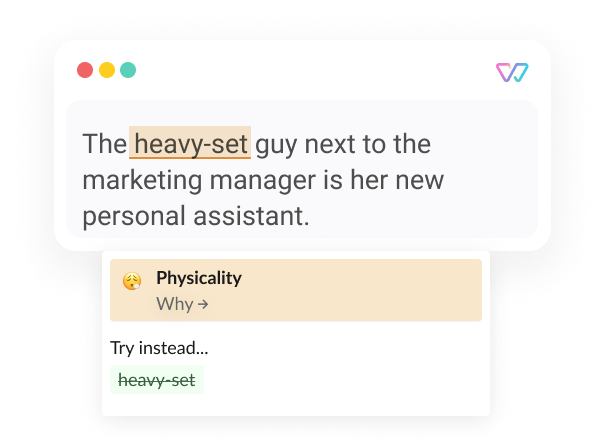 To help make everyone around you feel at ease about their body and appearance, avoid drawing attention to, or identifying people by, physical attributes.