As the year 2023 begins, it is time we provide an update on the work done by the Witty Works ethics board in the last year: How we organized ourselves, defined our processes and implemented them in practice. Especially how we deal with situations that are not as clear as "right" or "wrong".
How to operationalize an ethics board
After the announcement of the Witty Works ethics board the first task was to define our roles & accountabilities, processes and most importantly principles. As mentioned in our announcement, there are unfortunately few tech companies, let alone startups, that have ethics boards or provide insights into how their ethics boards work. Thankfully, with our experienced ethics board members we did find some points to start from, largely from the public sector. We adapted these to the needs of a private sector startup. You can find more on this in this blog post.
Defining Roles & Accountabilities
Witty Works facilitates the ethics board meetings using the Holacracy framework which ensures a smooth flow of information and decisions between all parties. We're using Holaspirit to detail roles, purpose, and accountabilities, and proactively informing the board of developments and relaying information back to stakeholders. Additionally, we have created a dedicated role for answering questions about our algorithms and established a rule for transparency to the public.

Our external board members have taken on the responsibility of making Witty Works aware of ethical concerns and working on solutions, with Anna and Leila focusing on technology ethics, Fungai focusing on DEI, and Leila focusing also on ESG and UNSDGs.

Participation in the monthly meetings and work between meetings is now paid by the hour or with a matching donation to a charity of the choice of the ethics board member.
Getting to work
We've established a process for triaging concerns raised by internal or external stakeholders and defined our data ethics principles. This will be shared in a forthcoming blog post. Thanks to this process, we've tackled the first concrete concerns, including improving transparency in data collection (see below for more details), how we support ESG/UNSDG goals, and making Witty more accessible (with work done on font sizes and color, more to come).
New Feature: Consent during Onboarding
During the sign-up, it wasn't obvious to users what type of data collection Witty will be doing on their data.
We adapted the onboarding to add a dedicated consent page that summarizes relevant information and links to a newly created trust & security page. While this makes the onboarding process more lengthy, we decided to take this step to provide for informed decision-making.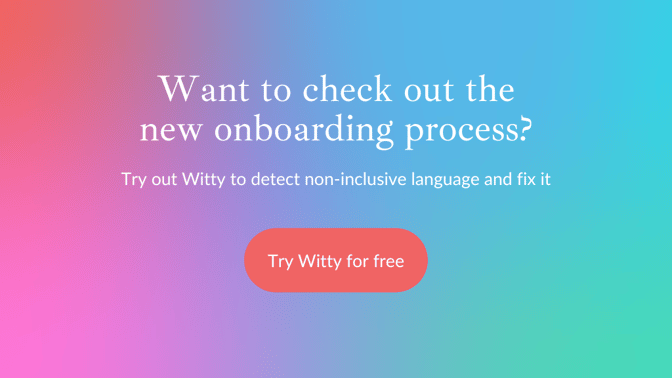 New Feature: Analytics
We identified a potential privacy issue with our personal and team analytics feature. The main concern with analytics was that we want to build a trust relationship with individuals. As such we intentionally do not want to expose individual analytics to team admins.

To maintain customer trust, we allow individuals to opt out of team analytics. Furthermore, team admins can only analyze aggregated data to prevent surveillance of individuals. Finally, team admins can expose the team analytics to the entire team for transparency. With this approach, we strike a balance between reducing bias in language by making customers aware of non-inclusive language while protecting privacy by not monitoring individual behavior.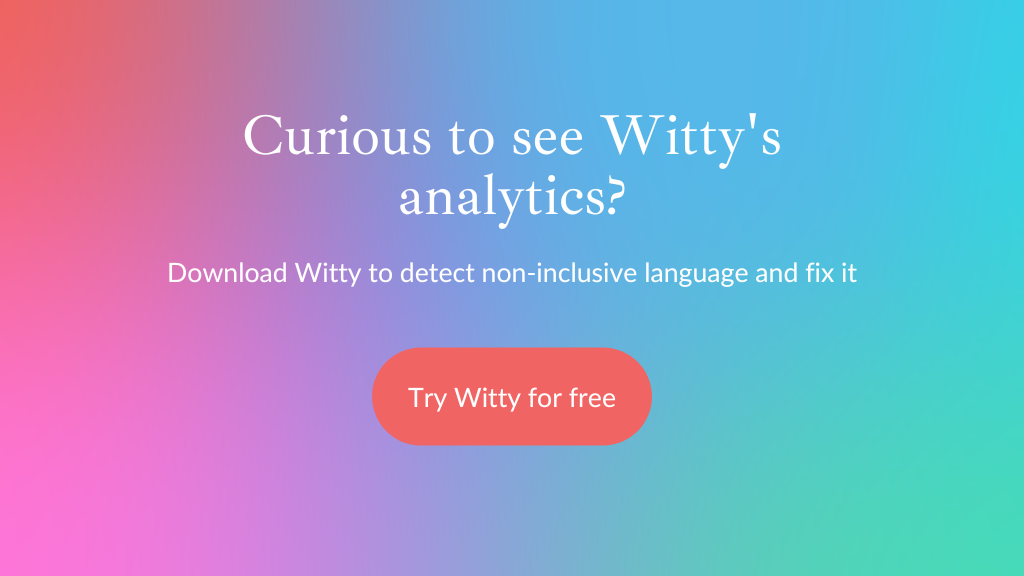 New Feature: Custom machine learning model
We're improving our custom machine learning model to reduce false positives using data from customers who accept or reject suggestions. Customers here refers to both freemium and paid. That being said, paying customers can also disable data collection in team settings. As a first step, we protect privacy by stripping numbers, emails, and URLs from the collected data and store it independ of PII like the customers name or email. In a second step we manually review collected sentences to avoid bias.

We're committed to providing a credible real-world benefit in the field of DEI. For more details, see our trust & security page.
A look ahead into 2023
We plan to establish a "language council" to safeguard that all diversity dimensions are considered in our vocabulary. This council will provide that all diversity dimensions are considered in our vocabulary. We will draw upon our growing partnerships with NGOs and diversity subject-matter experts to form this council. This new approach will not only help identify potential opposing interests between different diversity dimensions, such as neologism versus reading clarity, but also within a specific diversity dimension, such as cultural differences or opposing approaches like identifying first versus person first.

We are also thrilled to announce that Leila has agreed to use her expertise in ESG (Environmental, Social, and Governance) and UNSDG (United Nations Sustainable Development Group) to help us create a sustainable organization, product, and go-to-market strategy that benefits society and the planet. This is an exciting development for Witty, as we strive to make a positive impact on the world through our work.

Sadly, we have to announce that Fungai has stepped down from her role due to time constraints. We would like to express our gratitude to Fungai for her contributions to the board. Her work and dedication have been instrumental in shaping our processes and laying the foundation for our ethics protocols. We wish her all the best in her future endeavors.

The Witty Works ethics board continues to provide a critical outside perspective and know how to Witty Works. We are thankful for the work so that Witty continues to be a trustworthy solution for diversity, equity and inclusion.
If you are looking for a digital writing assistant for inclusive language, try out Witty for free. Witty detects non-inclusive language and provides ongoing training on unconscious bias and operationalizes inclusion.